Single Side Bracket Formwork
Single-sided bracket is a formwork system for concrete casting of single-sided wall, characterized by its universal components, easy construction and simple and quick operation. Since there is no wall-through tie rod, the wall body after casting is completely water-proof. It has been widely applied to the outer wall of basement, sewage treatment plant, subway and road& bridge side slope protection.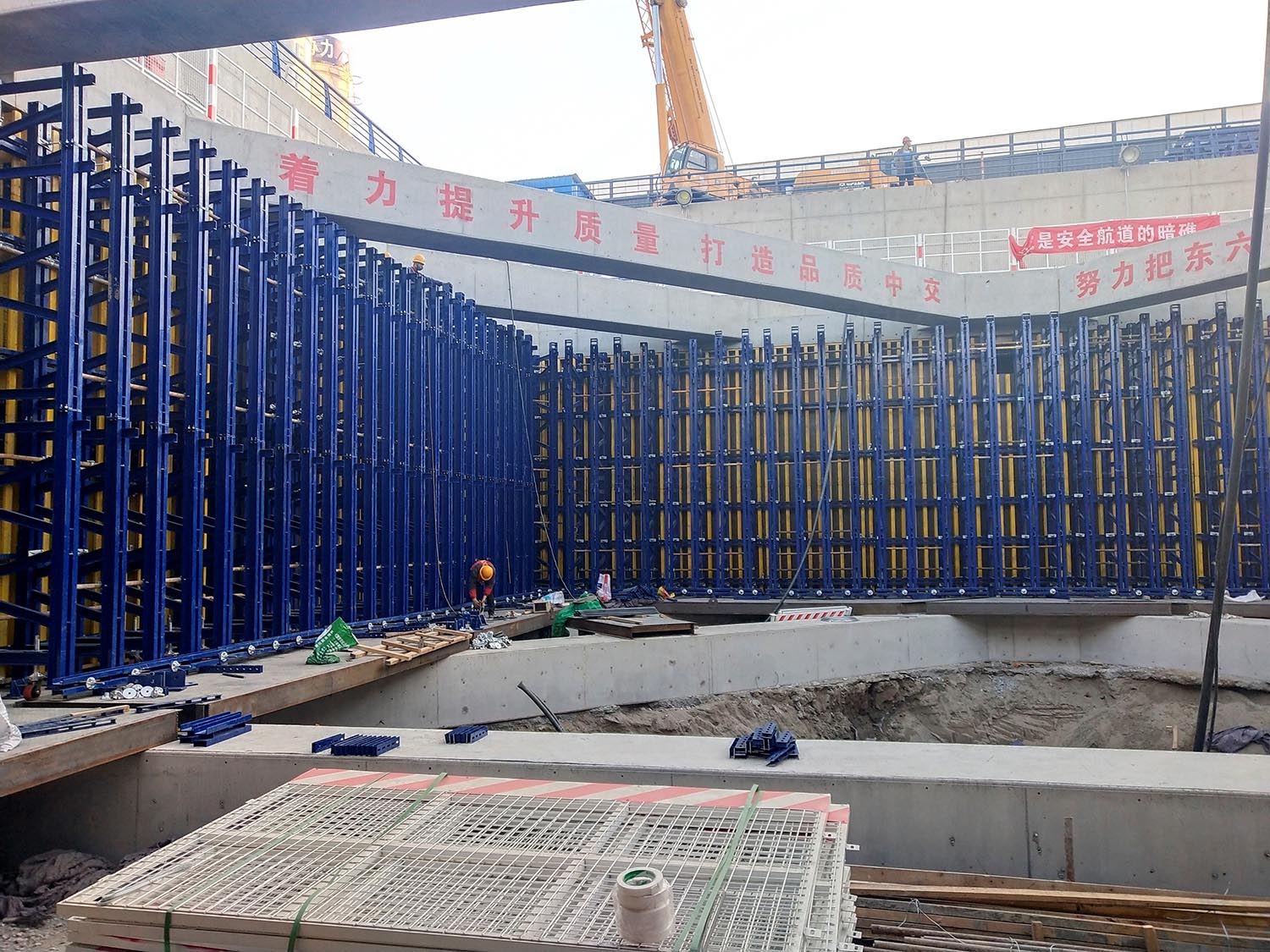 Due to the area limitation of construction sites and the development of slope protection technology, the application of single-sided bracket for basement walls is becoming more and more common. As the lateral pressure of concrete cannot be controlled without wall-through tie rods, it has caused too much inconvenience to formwork operation. Many engineering projects have adopted a variety of methods, but formwork deformation or breaking occurs now and then. The single-sided bracket manufactured by our company is specially designed to serve the need on site, and it solves the problem of formwork reinforcement. The design of the single-sided formwork is reasonable, and it has the advantages of convenient construction, simple operation, fast speed, reasonable load bearing and labor saving, etc. Maximum cast height at one time is 7.5m , and it includes such important parts as single-sided bracket, formwork  and anchor system.
According to the increasing fresh concrete pressure due to the height single side formwork systems are produced for different types of concrete.
According to the concrete pressure, support distances and type of support is determined.
Lianggong Single Side Formwork System offers great efficiency and excellent concrete finishing for structure in building construction and civil works.
By using Lianggong Single Side Formwork System there is no chance to form honeycomb structures.
This system consists of single sided wall panel and Single Sided Bracket, used for retaining wall.
It can be used together with steel formwork system, as well as timber beam system up to the height of 6.0m.
Single Sided Formwork System also used in the low-heat mass concrete field. E.g. in power-station construction where wall thickens are so great that the elongation of the tie rods that would take place means that it is no longer technically or economically viable to place through ties.
---
Previous:
Protection Screen and Unloading Platform
---
Write your message here and send it to us