Precast Steel Formwork
Precast girder formwork has advantages of high-precision, simple structure, retractile, easy-demoulding and simple operation. It can be hoisted or dragged to casting site integrally, and demoulded integrally or piecemeal after concrete achieving the strength, then pull out the inner mould from the girder. It is handy installing and debugging, low labor intensity, and high efficient.
The bridge viaduct is divided into small segments, that are prefabricated in the good quality control casting yard, then, delivered to install by good erection equipment.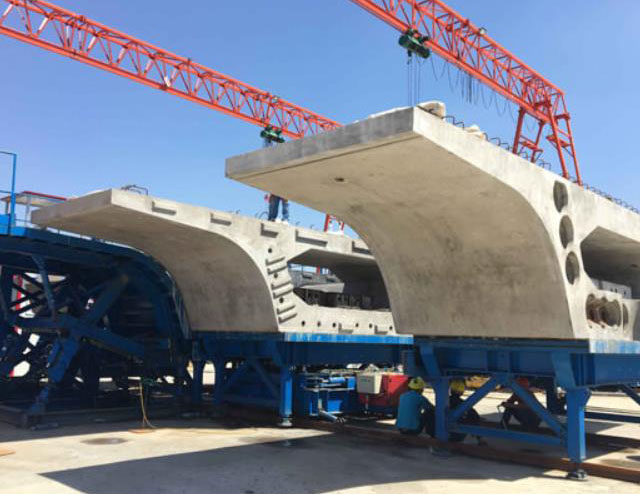 1. Casting yard and segment production(geometry control program and software).
2. Segment erection/ installation and equipments.
1. Construction Simplicity
• Easier installation of external post-tensioned tendons
2. Time Savings/Cost Effectiveness
• Precast segment to be prefabricated and stored at casting yard while foundation and sub-structure are being built.
• By using efficient erection method and equipment, the rapid installation of viaduct can be achieved.
3. Quality Control Q - A/QC
• Precast segment to be produced in factory-manner condition w/good quality control.
• Minimum interruption natural impacts such as bad weather, rain.
• Minimum waste of material
• Good precision in production
4. Inspection and Maintenance
• External prestressing tendons can be easily inspected and repaired if required.
• Maintenance program can be scheduled.
1. Generally, the total net weight of loaded container is 22 tons to 26 tons, which need be confirmed before loading.
2. Different packages are used for different products:
---Bundles: timber beam, steel props, tie rod, etc.
---Pallet: small parts will be put in bags and then on pallets.
---Wooden cases: it is available on customer's request.
---Bulk: some irregular goods will be loaded in bulk in container.
1. Production: For full container, normally we need 20-30 days after receive customer's down payment.
2. Transportation: It depends on the destination charge port.
3. Negotiation is needed for special requirements.
---
Previous:
Arch Installation Car
Next:
Rock Drill
---
Write your message here and send it to us