Pipe Gallery Trolley
Pipe gallery trolley is a tunnel built underground in a city, integrating various engineeringpipe gallerys such as electric power, telecommunication, gas, heat and water supply and drainage system. There is special inspection port, lifting port and monitoring system, and planning, design, construction and management for the whole system have been consolidated and implemented. It is an important infrastructure and lifeline for a city's running and management. To suit the market need, our company has developed the TC-120 pipe gallery trolley system. It is a new model trolley which ergonomically integrates the formwork system and trolley into a unity. The formwork can be installed and removed easily by adjusting the spindle strut of the trolley, without disassembling the whole system, thus achieving a safe and quick construction rationale.
The trolley system is divided into semi-automatic traveling system and fully automatic traveling system.
1.Semi-automatic traveling system : The trolley system consists of gantry, formwork support system, hydraulic lifting system, adjustment support and traveling wheel. It needs to be dragged forward by a pulling device such as a hoist.
2.Fully-automatic traveling system: The trolley system consists of gantry, formwork support system, hydraulic lifting system,  adjustment support and electric traveling wheel. It only needs to press the button to move forward or backward.
1.The pipe gallery trolley system transmits all the loads generated by the concrete to the trolley gantry through the support system. The structure principle is simple and the force is reasonable. It has the characteristics of large rigidity, convenient operation and high safety factor.
2.The pipe gallery trolley system has a large operating space, which is convenient for workers to operate and related personnel to visit and inspect.
3.Quick and easy to install, fewer parts required, not easy to lose, easy to clean on site
4.After one-time assembly of the trolley system, there is no need to disassemble and it can be put into recyclable use.
5.The formwork of pipe gallery trolley system has the advantages of short erection time (according to the specific situation of the site, the regular time is about half a day), less personnel, and long-term turnover can reduce the construction period and cost of manpower as well.
1.Material checking
After entering the field, check the materials to ensure that the materials are consistent with the purchase list.
2.Site preparation
Before installing the TC-120 pipe gallery trolley system, the bottom of the pipe and the guide walls on both sides should be poured in advance (the formwork needs to be wrapped 100mm)

Site preparation before installation
3.Installation of bottom stringer
The adjustment support, the traveling wheel and the hydraulic lifting system are connected to the bottom stringer. Place the traveling trough according to the drawing mark ([16 channel steel, prepared by site), and extend the adjustment support beyond the hydraulic lifting system and the traveling wheel, install the connected bottom stringer. As shown below:
4.Mounting gantry
Connect the door handle to the bottom stringer. As shown below: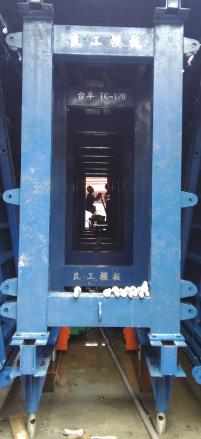 Connection of bottom stringer and gantry
5.Installation of top stringers and formwork
After Connecting the gantry to the top stringer, then connect the formwork . After the side formwork being installed and adjusted, the surface should be  smooth and flat, the joints are free of faults, and the geometric dimensions meet the design requirements. As shown below:
6.Installation of the formwork support
Connect the cross brace of the formwork with the diagonal brace of the gantry to the formwork. As shown below:
7.Installation of motor and circuit
Install hydraulic system motor and electric traveling wheel motor, add 46# hydraulic oil, and connect the circuit. As shown below:
Installation of motor and circuit
---
Previous:
Hydraulic Tunnel Linning Trolley
---
Write your message here and send it to us